CATALYSIS AND SUPRAMOLECULAR CHEMISTRY
UPDATED VERSION SOON
1) Aqueous organometallic catalysis
Aqueous organometallic catalysis is an elegant way to recover the hydrosoluble catalyst at the end of the reaction by simple decantation. However, activities remain low when the substrate is not soluble in aqueous phase. For more than 14 years, our group has been using the ability of cyclodextrins (CDs) to form inclusion complexes with hydrophobic substrates to facilitate the reaction with the hydrosoluble catalyst in the aqueous phase (Inverse Phase Transfer Catalysis – fig. 2a) or at the interface (Interfacial Catalysis – fig. 2b – See animation) [P1, P2].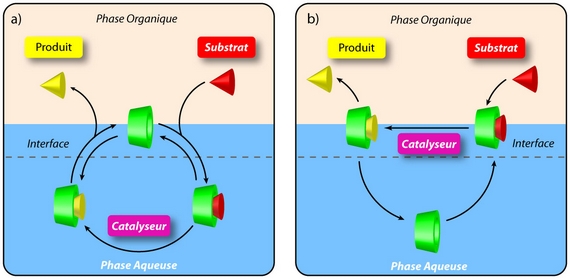 Fig. 2 : Principle of biphasic organometallic catalysis assisted by CDs.
During this work, we demonstrated that the β-CD and its derivatives also formed inclusion complexes with some of the hydrosoluble phosphines used to solubilise the catalyst in the aqueous phase [P3]. For example we showed by various spectroscopic techniques that the trisulfonated triphenylphosphine formed a 1:1 stoichiometric inclusion complex with the β-CD (Figure 3)..
Fig. 3 : Representation of the inclusion complex between β-cyclodextrin and trisulfonated triphenylphosphine
The existence of such inclusion complexes could lead to the formation of phosphine low-coordinated species and could partially poison the cyclodextrin.
Our researches are currently advancing in three directions :
Elaboration of catalytic systems avoiding the CD/phosphine association.

Generation of phosphine low-coordinated organometallic species.<

Elaboration of supramolecular bidentate ligands for aqueous organometallic catalysis.
Publications :
P 1. Rhodium-catalyzed Hydroformylation Promoted by Modified Cyclodextrins : Current Scope and Future Developments.

F. Hapiot, L. Leclercq, N. Azaroual, S. Fourmentin, S. Tilloy, E. Monflier,
Current Organic Synthesis 15 (2008) 162-172.

P 2. Substrate-selective aqueous organometallic catalysis. How small water-soluble organic molecules enhance the supramolecular discrimination.

C. Torque, B. Sueur, J. Cabou, H. Bricout, F. Hapiot, E. Monflier,
Tetrahedron 61 (2005) 4811-4817.