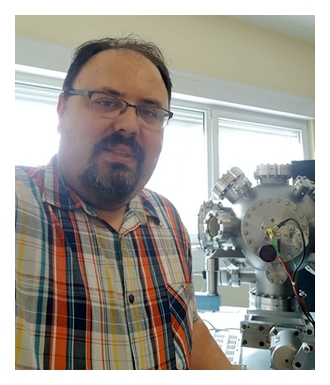 Sebastien Saitzek was born in August 9, 1976 in Arras (Pas-de-Calais / 62). After a Sciences of materials DEUG, a physical sciences Licence, a chemistry Maîtrise at the University of Artois, he obtained a DEA «Structure and dynamics of the reactive systems» at the University of Lille 1. Since March 2005, he acquired a doctorate in sciences of materials at the University of Toulon under the direction of the Pr. J R. Gavarri and

Pr. Ch. Leroux

.
Its thesis subject is the catalytic study of CeO2/CuOx nanocomposite and the CeO2/VO2 thermochromic bilayers for optical applications in the infra-red range.
Since

September 2006

, he was promoted

«Maître de conférences»

at Artois University. He integrated the team

«synthesis and characterization of substrates»

of the

LPCIA

. These activities of research relates to the synthesis of ferroelectric compounds (nanoparticles and thin films) by methods of soft chemistry.
Since

December 2011

, he acquired a

Habilitation to supervise research

at the

University of Artois

under the direction of

Prof. R. Desfeux

. His topic focused on «Synthesis and characterization of functional oxides with variable dimensionality».
---

orcid.org/0000-0003-1403-5397
---
Ouvrages scientifiques :
S. Saitzek, Z. Shao, A. Bayart, P. Roussel, and R. Desfeux
«Microstructure and Nanoscale Piezoelectric/Ferroelectric Properties in Ln2Ti2O7 (Ln = Lanthanide) Thin Films with Layered Perovskite Structure»
Perovskites and Related Mixed Oxides: Concepts and Applications
Edition: 1st, Chapter: Chapter 11 - Publisher: Wiley-VCH
Editors: Granger, Pascal / Parvulescu, Vasile I. / Kaliaguine, Serge / Prellier, Wilfrid
ISBN: 978-3-527-33763-7 - Wiley-VCH, Weinheim
Publications 2018:
«Microstructure and local electrical behavior in [(Nd2Ti2O7)4/(SrTiO3)n]10 (n = 4–8) superlattices»
T. Carlier, A. Ferri, S. Saitzek, M. Huvé, A. Bayart, A. Da Costa, R. Desfeux and A. Tebano
RSC Adv., 2018, 8, 11262-11271 - doi: 10.1039/C8RA00824H


«Upconversion luminescence properties and thermal quenching mechanisms in the layered perovskite La1.9Er0.1Ti2O7 towards an application as optical temperature sensor»
A. Bayart, F. Szczepanski, J-F. Blach, J. Rousseau, A. Katelnikovas, S. Saitzek
Journal of Alloys and Compounds, Volume 744, 5 May 2018, Pages 516-527
doi: 10.1016/j.jallcom.2018.02.055


Publications 2017:
Publications 2016:
Publications 2015:
«Self healing glassy coating for high temperature application»
T. Carlier, F. O. Méar, S. Saitzek, J-F. Blach, R. Podor and L. Montagne
Matériaux et techniques, EDP Sciences, Volume 103, Number 4, 2015


«Selective secondary face modification of cyclodextrins by mechanosynthesis»
S. Menuel, B. Doumert,; S. Saitzek, A. Ponchel, L. Delevoye, E. Monflier, F. Hapiot
J. Org. Chem. 2015, 80, 6259-6266 - doi: 10.1021/acs.joc.5b00697


«Refractive indices and birefringence of hybrid liquid crystal - nanoparticles composite materials in the terahertz region»
E. Mavrona, U. Chodorow, M. E. Barnes, J. Parka, N. Palka, S. Saitzek, J.-F. Blach, V. Apostolopoulos and M. Kaczmarek
AIP Advances, 5, 077143 - doi: 10.1063/1.4927392


«Effective piezoelectric coefficient measurement of BaTiO3 thin films using the X-ray diffraction technique under electric field available in a standard laboratory»
V. Thery, A. Bayart, J-F. Blach, P. Roussel, S. Saitzek
Applied Surface Science Volume 351, 1 October 2015, Pages 480–486
doi: 10.1016/j.apsusc.2015.05.155


«Electrically charged dispersions of ferroelectric nanoparticles»
O. Kurochkin, E. Mavrona, V. Apostolopoulos, J-F. Blach, J-F. Henninot, M. Kaczmarek, S. Saitzek, M. Sokolova and Y. Reznikov
Appl. Phys. Lett. 106, 043111 (2015) - doi: 10.1063/1.4907224

Publications 2014:
«Ferroelectricity in La2Zr2O7 thin films with a frustrated pyrochlore-type structure»
S. Saitzek, Z. Shao, A. Bayart, A. Ferri, M. Huvé, P. Roussel, R. Desfeux
J. Mater. Chem. C, 2014, 2 (20), 4037 - 4043 - doi: 10.1039/C4TC00207E


«Microstructure and Nanoscale Piezoelectric/Ferroelectric Properties in Ln2Ti2O7 (Ln = La, Pr and Nd) Oxide Thin Films Grown by Pulsed Laser Deposition»
A. Bayart, S. Saitzek, A Ferri, R. Pouhet, M-H Chambrier, P. Roussel, R. Desfeux
Thin solid Films, Volume 553, 28 February 2014, Pages 71-75 - doi: 10.1016/j.tsf.2013.11.036