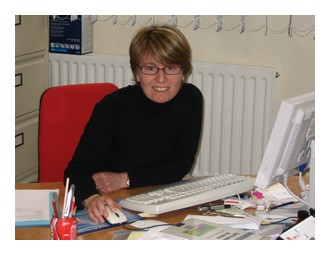 Anne Ponchel was born in Lille (France) in 1971. She received her pH.D. degree in 1998 from the University of Lille I under the supervision of Louise Duhamel for work on the relationships between the structures of mixed oxides and catalytic properties in oxidative dehydrogenation of alkanes. She then spent 12 months as a postdoctoral position at the University of Munich (Germany) with Pr. Helmut Knözinger, working on the characterization of the surface acidity of oxidation catalysts by low temperature FTIR spectroscopy. In 2000, she became

«Maître de Conférences» at the University of Artois

and joined the LPCIA in the research group of Pr. Eric Monflier, where she completed her «Habilitation» in

2007

. In

2008

, she was promoted

Professor

. Her research studies are at the interface between host-guest chemistry, functionalized surface chemistry for non linear optic or catalytic applications. Currently, her research interests are mainly focused on catalysis promoted by cyclodextrins, performed in biphasic, multiphase and heterogeneized systems. She is the author of

54 publications

and

78 oral or poster presentations

.
---

orcid.org/0000-0003-0476-7973
---
Projects:
Project Leader of ANR CYCLOMAT (Program P2N 2011, Project ANR 11-NANO-005): Meso­structured carbon MATerials based on CYCLOdextrins precursors for the catalytic oxidation of HMF.
---
Publications 2017:
«Polyoxometalate, cationic cluster and g-cyclodextrin. From primary interactions to supramolecular hybrid materials»
M. Aly Moussawi, N. Leclerc, P. Abramov, M.N. Sokolov, S. Cordier, A. Ponchel, E. Monflier, H. Bricout, D. Landy, M. Haouas, J. Marrot, E. Cadot
J Am Chem Soc 2017, 139, 12793-12803 - doi: 10.1021/jacs.7b07317

«Cyclodextrin-directed synthesis of gold-modified TiO2 materials and evaluation of their photocatalytic activity in the removal of a pesticide from water. Effect of porosity and particle size»
A. Lannoy, R. Bleta, C. Machut-Binkowski, A. Addad, E. Monflier, A. Ponchel
ACS Sustainable Chem. Eng. 2017, 5, 3623-3630 - doi: 10.1021/acssuschemeng.6b03059

«Highly regio-selective hydroformylation of biomass derived eugenol using aqueous biphasic Rh/TPPTS/CDs as a greener and recyclable catalyst Molecular Catalysis»
S.A. Jagtapa, E. Monflier, A. Ponchel, B. M. Bhanage
J. Mol. Catal. 2017, 436, 157-163 - doi: 10.1016/j.mcat.2017.04.019


Publications 2016:
Publications 2015:
Publications 2014: